Encouraging men in their God-given role as "Dad"
Christian Manhood:Caring for Your Soul
To be—or not to be—accountable? That is the question. What motivates you to be accountable, and why? In the midst of your busy life, in the whirlwind of must-do lists, media chaos and people's expectations, to whom are you accountable? Personal inventory is easily overlooked and often undervalued. In Christian Manhood D.J. Young brings a godly, fresh perspective on caring for oneself and one's family. • How do I start being accountable? • Will my prayers be answered? • How can I control my thought life? • What does the Bible say about my sex life? • What does it mean to care for my wife? • How can I protect her? • What happens if I neglect her? • What are the signs of spiritual life or death? • Who cares for my soul? • Why does God care about my money? • How should I choose my friends? • What is "walking in the Spirit?" Addressing health, wealth, tithing, giving, sex, friendships, trust, talents, and more, this concise guide will help you find a clear path to personal growth and maturity within a Christian perspective.
---
The Roles of the Father in the Home: King, Judge, Priest, Prophet 
$15.95 Purchase Book
Kindle Edition $9.99 (Save 33%-Coming Soon)
How does a man learn to be a good Dad? Where can he find reliable principles to guide him in caring for his family? The Roles of the Father in the Home is a compact, focused overview of four important biblical ways a thoughtful, caring Dad can become the man God intended him to be as a husband and a father.These strategic areas are outlined with a clear focus. Young has somehow found a way to discuss each man's role and show how it can be worked out in a loving way in one's personal family life.With scripture as the foundation and backdrop, each type of responsibility is explained in a down-to-earth manner. Familiar, relatable examples will inspire the reader to see and understand how it is not only possible, but ultimately desirable and vital for a Dad to step up and take seriously his role as head of the family.
---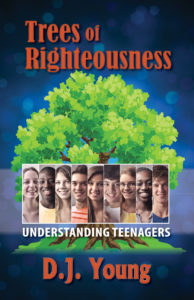 Trees of Righteousness: Understanding Teenagers
$14.95 Purchase Book
Kindle Edition $9.99 
In Trees of Righteousness-Understanding Teenagers D.J. Young brings unique insight, relating to a father's role in raising a teenager to one who cares for a fruit tree. For a tree to bear good fruit, certain conditions are necessary. For a teenager to successfully complete the challenging journey from youth into adulthood, a healthy environment and moral guidance are vital.How does our home life grow good fruit? • Soil: Our home's atmosphere. • Seed: Our son or daughter. • Root: Child's ability to mature while living at home. • Nutrients: Values learned in the home. • Trunk: Growth into a strong adult. • Branches: Young adult reaches out to benefit the world. • Leaves: Young adults who care for and protect others. • Fruit: Adult children produce their own good fruit.A caring father will reflect on nourishing his teen's spiritual health and emotional strength. How does a father "water" the soils, plant the seed, establish the root to flourish into a nutrient-rich trunk, prune the branches, and grow beautiful fruit? This concise guide is filled with deep understanding providing answers to these questions.
---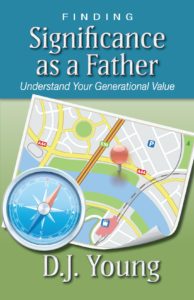 Finding Significance as a Father —Understand Your Generational Value
$14.95 Purchase Book
Kindle Edition $9.99 (Save 33%)
How can a Dad evaluate the effect he has had on his children? In the long run, how significant have you been as a Dad? Perhaps you've been so busy trying to provide for your family, or keeping your kids in line, or driving them to soccer games, that you haven't really paused to ponder how your legacy will affect the next generations of your family. Some of the best and worst examples of fatherhood can be found in the pages of the Bible. The actions and decisions of the Old Testament patriarchs like Adam, Noah, Abraham, Jacob, Joseph, King David and others give us much to consider. For example: Noah. Why did God choose him to build an ark of salvation? What became of Noah's sons and their wives and families? And Job was amazingly steadfast, which brought him through incredible trials and tragedies. How can a modern Dad compare?
In Finding Significance D.J. Young challenges loving, thoughtful Dads to take a moment and look inside to examine how their own character is influencing and molding the next generation.
---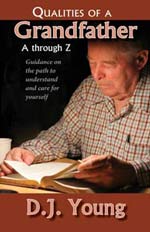 Qualities of a Grandfather-A Through Z—Guidance on the path to understand and care for yourself
$14.95 Purchase Book
Kindle Edition $9.99 (Save 33%)
Calling all grandfathers! Who is meeting your needs? For decades you focused so much time and energy, and so many resources, providing and caring for your children-and now your grandchildren. Does it feel like a one-way street? Do you feel guilty for desiring validation? For wanting to be appreciated?
Time to dive into DJ Young's Qualities of a Grandfather and learn, at last, how to find a sense of your unique value. You are a one-of-a-kind man-an individual worthy of respect-and in God's eyes you are important. His plans for your life are good plans, and by understanding your personal worth you will be able to embrace your destiny. It is time to begin caring for yourself, too.
Let this book be your guide as you continue to explore your own personal development. Even in our later years we can continue to grow and improve in our character. Study these 26 (alphabetical) qualities, reflect on how they apply to you, pray about them, and discover all the wonderful plans God still has in store for you.
---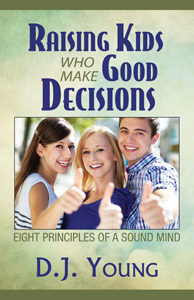 Raising Kids Who Make Good Decisions—Eight Principles of a Sound Mind
$13.95 Purchase Book
Kindle Edition $8.99 (Save 35%)
As a dad, do you have a plan for training your children? Have you thought about how you can teach them good morals and values? When they reach adulthood will they be prepared to face the world with a positive attitude and clear thinking and ability to make sound decisions? Perhaps you realize how important this is, but still you wonder—how can I effectively teach my kids to be ready for life's biggest challenges?
Here in your hands is just such a plan. Taken straight from the New Testament, Young's Raising Kids Who Make Good Decisions clearly shows how one brief scriptural passage can help parents both refine their own attitudes and also shape and re-direct their children's attitudes and thought patterns as they respond to everyday situations.
In fact, the Bible does tell us "how to think" because how we think matters more than we realize. Just as our diet affects our physical health, our thinking controls our mental and emotional health, as well as all our relationships.
---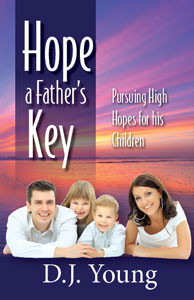 Hope: A Father's Key—Pursuing High Hopes for his Children
$14.95 Purchase Book
Kindle Edition $8.99 (Save 40%)
In all your years devoted to raising your children, what really motivated you?• Your rules? • Your decisions regarding their requests? • The activities you chose to do with your son or daughter? • Your prayers for them? • Or was it your hope for their future?
Bringing up children requires hope. Guiding, nurturing, protecting, educating and inspiring an immature human being is daunting at best, and always demanding.
Hope is the very backbone of parenting. It's part of our DNA as Dads. Hope keeps us going. In Hope: A Father's Key D.J. Young reveals a clear, Biblical path to hope and peace for fathers of adult children. Even when your children have moved out of your home, you are still their Dad.
---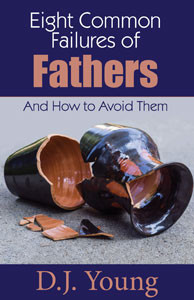 Eight Common Failures of Fathers—And How to Avoid Them
$14.95 Purchase Book
Kindle Edition $8.99 (Save 40%)
This is not a book for the faint of heart. D. J. Young continues his enlightening series of books for Dads here with Eight Common Failures of Fathers, and How to Avoid Them.
Examining eight vital factors crucial to successful parenting, Young carefully leads us through the reasons why certain qualities and behaviors are important for Dads to demonstrate.
Resolve to walk the path set before you with integrity, love and value. Here in your hands are valuable keys to becoming a dad of distinction.
---
Three Fathers: God, You, Grandfather—A Dad's Devotional
$12.95 Purchase Book
Three Fathers: God, You, Grandfather involves dads of all ages, including grandfathers, looking to better understand their crucial role in raising a new generation to love and serve God. Drawing on the powerful image of God the Father, D.J. Young's newest devotional blends short scriptures, poetic imagery and encouragement into a reflective four-week journey.
Men will appreciate the vivid imagery and down-to-earth perspectives as much as the condensed, direct approach in each day's topic. With great generosity of heart, Young digs deeply into a father's world of hopes, fears and challenges, offering emotional and spiritual healing to men of every age.
---
What Makes Fathers Unique—The Mystery of Clothing
$13.95 Purchase Book
Kindle Edition $8.99 (Save 35%)
D. J. Young delves deeply into three beloved Bible stories to enrich our understanding of fatherhood. Revisiting the adventures of Adam and Eve, Joseph (son of Jacob, renamed Israel), and the Prodigal Son, Young reveals striking similarities in the natural, yet utterly profound actions of these three fathers putting clothes on their sons.
Just as the Heavenly Father clothed Adam in the Garden; just as Jacob gave young Joseph a special "coat of many colors"; and just as the Prodigal's father had a fine robe brought to his repentant son, so in this short study all Christian fathers are urged to consider the profound gift they might give their children—spiritual clothing.
With what should a man clothe his own soul? How can he guard his heart and that of his child? And how can he possibly provide true spiritual clothing to his children? What Makes Fathers Unique? provides clues to these and other mysteries.
---
A Father's Ministry—To Minister and Give his Life
$14.95 Purchase Book
Kindle Edition $8.99 (Save 40%)
Imparting important life lessons to one's children comes suddenly into sharper focus in A Father's Ministry. Asking what motivates a man to think less of his own pleasure and more about the character and future of his children, D. J. Young probes into issues of personal dreams, goals, and one's outlook on life.
Young prods us to question the depths of our heart regarding the meaning of life and our reasons for striving to pass on personal beliefs and values.
Skillfully weaving Bible references with personal observations based on years of fatherhood and mentoring other men, Young brings encouraging, thoughtful perspective to a wide range of fatherhood's challenges.
---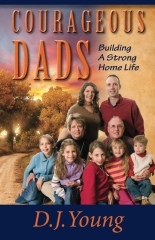 Courageous Dads—Building A Strong Home Life
$17.95 Purchase Book
Kindle Edition $8.99 (Save 50%)
To be the anchor for your children through the storms of life is a huge undertaking, and not for the fainthearted. It can be a daunting task for a young man to refocus his priorities from himself to the needs of his wife and children. Many never manage it, but Courageous Dads shows how you can.
When you became a Dad, was it by chance or by choice? Either way, for the rest of your life you will have countless opportunities to make the best choices. Not feeling courageous? Take heart.
D. J. Young helps you discover the essential hallmarks of a courageous Dad and how you can become one too. The choice is yours.
---
A Prodigal's Return—Eight Phases of the Prodigal Season
$14.95 Purchase Book
Kindle Edition $8.99 (Save 40%)
Loving parents of young children naturally hope their little ones will grow up to follow a wholesome, positive lifestyle, filled with good choices and success. Some, who tried their best to raise their children well, are disappointed when their teen or young adult strays into unhealthy, careless, or unwise habits and choices. When that youth has also moved far away, parental stress and anxiety increase.
In A Prodigal's Return D. J. Young offers fresh hope, new insights, and a strategy for families in crisis. His clear examination of Jesus' story of the "Prodigal Son" offers strength to face uncertainty and heartache, and a strategy for coping, while believing and waiting for a prodigal's return
---
The Praying Dad—When You Pray, What's In It For You?
$14.95 Purchase Book
Have you ever wondered, "Do my prayers do any good?" "How do I know God even hears me?" Are you frustrated when you don't know how to help your son or daughter solve problems, conquer fears, or survive a heartbreak? Does your heart ache when your child is rejected or suffers a tragedy?
In The Praying Dad, D. J. Young comes alongside as a trusted mentor, sorting out the maze of a Christian Dad's doubts and dreams. Get a grip on your personal prayer time, and learn how to connect with your own heavenly Father.
---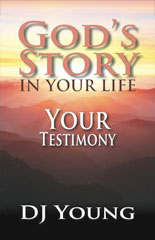 God's Story in Your Life—Your Testimony
$14.95 Purchase Book
Kindle Edition $8.99 (Save 40%)

When is it appropriate to give your personal testimony? Who would listen, and how could you know what to share? What is a testimony, and why would you want to share yours?
Many Christians feel shy or embarrassed if asked to tell about what God has done in their life. God's Story in Your Life takes the whole concept of a personal testimony, and thoughtfully explains not only what a testimony is, but also how, when, why and with whom we should share our own unique experiences with Jesus. If you have ever wanted someone to just sit down and talk to you in a friendly, reassuring way, read this book—you'll soon be ready to tell someone else of God's wonderful work in your life.
---
Seven Pillars of a Father's House—Training and Discipline of Children
$12.95 Purchase Book
DJ Young presents seven principles every Dad can learn to do to insure quality in his home and character in his children. In the midst of rapidly changing culture, bombarded by questionable morals and the dizzying erosion of traditional values, DJ gives encouragement and wisdom to Dads as they fulfill their most exciting, demanding and eternally significant role–being a Dad.
Part of his "Training and Discipline of Children" series, Seven Pillars examines definite areas in the process of bringing up children and previews carefully a Christian father's role, taking some of the mystery out of raising Godly sons and daughters.
---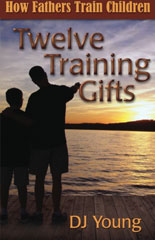 Twelve Training Gifts—How Fathers Train Children
$15.95 Purchase Book
What is your parenting style? As a Dad, do you train your child mostly by example, by instruction, or through counseling? Are you more effective with your child as a guide, a judge, or a spiritual leader? How can you identify your true gifts as a Dad?
In Twelve Training Gifts: How Fathers Train Children, D J Young reveals in clear, everyday terms the qualities in your parenting that can best develop your child's character. By specific examples, the results of each style in the lives of young children, teens and adults are examined.
---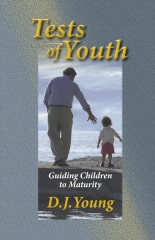 Tests of Youth—Guiding Children to Maturity
$14.95 Purchase Book
Once again D.J. Young has cut through the cultural fluff and distilled clear, insightful goals every Dad can attain with reasonable effort. Tests of Youth, Guiding Children to Maturity is an amazing overview of some of the most critical values and lessons Dad need to pass on to their children.
These eight "Tests" are the foundation from which young people launch into their future, and which–if passed successfully–give confidence, grace and energy to all stages of life. Walk this path with D.J. and share the joy in guiding your child or teen through the "Tests of Youth."
---
You're Still Their Dad—Fathering Your Adult Children
$14.95 Purchase Book
Your children are adults and do not live in your home. Do they still need you–their Dad? If not, then your job is done. If yes, how do they need you? 'You're Still Their Dad' not only answers the question, "Do they still need me?", it provides the nine needs they do have and how you can meet those needs.
You will be amazed at how you can still relate to them in positive and rewarding ways. Learn how to meet their needs and successfully continue to be their Dad. You will be touched as you realize you still have a wonderful part to play in their lives. Dad for eighteen years – or for a lifetime? You decide!
---
Adult Children and Their Dads—The Eight Needs of Fathers
$14.95 Purchase Book

Have you ever wondered if your Dad needs you? Adult Children and Their Dads details eight needs your Dad has and how you can meet those needs.
This book gives you, the adult child, a blueprint for building a life-long relationship with your Dad. Lay the foundation by knowing the specific needs, and then build on that foundation with love and compassion. This book tells you, then shows you.
Reading this book will change your relationship with your Dad.
This book will give you the wisdom to relate to your Dad, as you've always wanted to.
Read it for your sake. Practice fulfilling these eight needs of Fathers.
---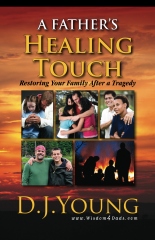 A Father's Healing Touch—Restoring Your Family After a Tragedy
$12.95 Purchase Book
Personal tragedy–something no one desires. Yet for many people, one or more devastating events become a sudden, overwhelming reality. In A Father's Healing Touch, D.J. Young once again draws from his deep understanding of family and personal dynamics, and God's provisions for help and comfort.
As a father dealing with personal tragedy, you anguish over how to help your family deal with, and begin to recover from their unexpected disaster–but how? depicting a caring father as a gardener tending his garden, D.J. leads us through the necessary and vital process of restoring nourishment and healing into first one's own life and heart, and then helping the rest of one's family.
---
Fatherhood: Experiencing the Wonders
$14.95 Purchase Book
The limited number of days a Dad has his children in his home sometimes seems endless. The many responsibilities of providing a living, maintaining your home and cars-all can overshadow the day-to-day joy of loving your children. Loving them by being present to them.
Then, one day, something happens. Perhaps a little thing. Regardless of what it is, it causes you to stop and realize that life with your children is precious, and swiftly passing you by. A wise Dad will use this reminder to start spending more time-more quality time-with his children.
Fatherhood: Experiencing the Wonders gives Dads a capsule view of sixteen wonders. Once these wonders are defined, they seem obvious. Yet these wonders are often ignored for the want of someone pointing them out.
The first eight wonders are, if you will, natural wonders. The rest are spiritual wonders. All Dads can experience the natural wonders, while the spiritual wonders are known only by praying Dads.
---
A Wife's Guide To Inspiring a Great Dad
$12.95 Purchase Book
Is your husband a great dad? Was he born knowing just how to come alongside you, his wife, to co-parent happy, responsible, well adjusted, wholesome children. Are you completely convinced he is able to navigate the rough waters of child-rearing? Do you always know how to encourage his leadership?
This real-life guide shows you, as a mother, effective strategies to help your husband steer a straight course into calmer waters-as a wise and loving father to your children. Learn how to be comfortable in your role as you allow him to feel natural in his.
Inspiring a Great Dad: A Wife's Guide is for every mother, young or not-so-young, who yearns for her husband to be all he can be as the father of her children.
---
Dad, Father, Grandfather—The Three Phases of Fatherhood
$14.95 Purchase Book
What makes a great father? And how does a dad know if he is doing a good job? In The Three Phases of Fatherhood D. J. Young brings his years of experience into a new focus, carefully examining the multiple layers of Christian fathering. With thoughtful analysis he helps today's busy dads identify important experiences, sharing valuable perspectives on the priceless daily interactions that build strong relationships.
From the awe and wonder felt by the dad of a newborn, to the need for patience, mercy and wisdom as the father of teens, to the comfort and strength of the grandfather phase, take a walk through life as only a dad can live it. Learn how to teach your own children how to better navigate life's challenges. Gain hope for more enriching times spent with your kids and grandkids, and see how important you are in their lives-for all time.